Airway Management
i-gel supraglottic airway
i-gel is a truly unique, single use, supraglottic airway management device that represents the culmination of years of extensive research and development.
Made from a medical grade thermoplastic elastomer, i-gel has been designed to create a non-inflatable, anatomical seal of the pharyngeal, laryngeal and perilaryngeal structures whilst avoiding compression trauma.
i-gel is indicated for use in securing and maintaining a patent airway in routine and emergency anaesthetics of fasted patients, during spontaneous or intermittent positive pressure ventilation, and during resuscitation of the unconscious patient, by personnel who are suitably trained and experienced in the use of airway management techniques and devices.
i-gel is currently available in seven sizes and is supplied in an innovative, colour-coded polypropylene 'protective cradle or cage pack'.
Keep up to speed with the most innovative development in supraglottic airways by visiting i-gel website.
Visit the i-gel website
The i-gel O2 Resus Pack puts the things you need at your fingertips. The pack contains an i-gel O2, with an easily removable inner tray, containing a sachet of lubricant, airway support strap and suction tube, all packaged in a specially designed clear, sterile, rigid pack. This unique design ensures protection of the contents, both in transit and in storage. The i-gel O2 has a colour coded hook ring to allow quick and easy identification of size. The i-gel O2 Resus Pack is available in three adult sizes.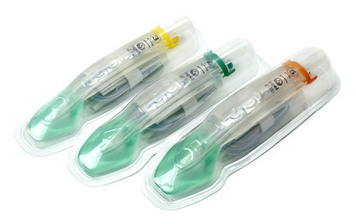 | | | | |
| --- | --- | --- | --- |
| 8705000 | i-gel O2 Resus Pack – includes a size 5 i-gel O2 with orange hook ring, sachet of lubricant, airway support strap and a 12FG suction tube, for large adults (90+kg) | 6 | image |
| 8704000 | i-gel O2 Resus Pack – includes a size 4 i-gel O2 with green hook ring, sachet of lubricant, airway support strap and a 12FG suction tube, for medium adults (50-90kg) | 6 | image |
| 8703000 | i-gel O2 Resus Pack – includes a size 3 i-gel O2 with yellow hook ring, sachet of lubricant, airway support strap and a 12FG suction tube, for small adults (30-60kg)3 | 6 | image |
| | | | |
| --- | --- | --- | --- |
| 8205 | i-gel supraglottic airway for large adults size 5 | 25 | image |
| 8204 | i-gel supraglottic airway for medium adults size 4 | 25 | image |
| 8203 | i-gel supraglottic airway for small adults size 3 | 25 | image |
| 8225 | i-gel supraglottic airway for large paediatrics size 2.5 | 10 | image |
| 8202 | i-gel supraglottic airway for small paediatrics size 2.0 | 10 | image |
| 8215 | i-gel supraglottic airway for infants size 1.5 | 10 | image |
| 8201 | i-gel supraglottic airway for neonates size 1.0 | 10 | image |